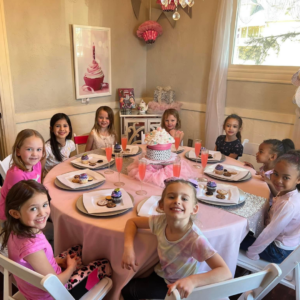 Every parent wants their kid's party to be a magical experience, one that leaves them with unforgettable memories and cherished moments. At Sweet Celebration Parties, we pride ourselves on creating just that – a place where children not only have a great time during their special celebration but also where they build enduring memories that they carry with them for years to come.
Our parties are not just an event; they are an experience. From the moment your child and their friends step into our boutique, they are greeted with an atmosphere of excitement and enchantment. Our all-inclusive party packages take care of everything, allowing parents to sit back, relax, and make memories with their children.
At Sweet Celebration Parties, we offer a variety of party packages, from tea parties to glam parties, dance parties, princess parties, spa parties, and even cupcake decorating parties. These themes provide the foundation for magical experiences that children can't stop talking about.
A Taste of Elegance: Our Tea Party Package transports little ones into a world of grace and charm. Fro
m dressing up in fancy lace and frills to enjoying a Feelin' Fancy makeover and sipping warm berry tea from real tea sets, the elegance and fun combine to create a truly unforgettable experience.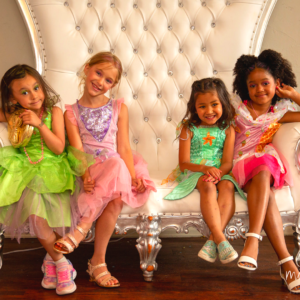 Transforming into Superstars: Our Glam Party Package turns children into glamorous divas, complete with makeovers, runway shows, and the works. The sparkle and glitter make each child feel like a superstar. With a personalized makeover, mini manis, and the choice of sparking hair glitter or colorful hair chalk, every little guest will walk away from our style stations feeling glam.
Groove to the Beat: With popular age-appropriate music, our Dance Party Package is designed to get kids moving and grooving. The energy and excitement of our dance floors are contagious, leaving everyone with smiles that last. Our party hostesses will teach your little guests a fun dance routine and lead dance games to get the party grooving.
Royal Celebrations: What could be more magical than celebrating with a real princess? You can add any of our Princesses to the Glam or Tea Party Packages to add a touch of magic to your little one's celebration. If your little one prefers a more intimate celebration, our 1-on-1 Princess Parties let children's dreams come true as they share their special day with their favorite princess.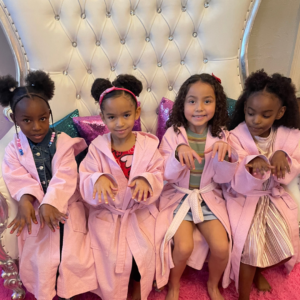 Pampering Bliss: For those who enjoy relaxation and indulgence, our Spa Party Package offers the perfect getaway. Warm foot soaks, hand massages, and exfoliating sugar scrubs that each little guest gets to personalize are just a few of the highlights. 
A Sweet Creative Outlet: Children get to decorate their own cupcakes, unleashing their creativity and indulging in delicious treats with our Bakery Party Package. It's an adventure in the world of frosting, sprinkles, and pure fun.
One of the key reasons our parties are so memorable is our commitment to taking the stress out of party planning for parents. We handle everything from decorating to snacks and drinks. All parents need to do is sit back and enjoy the special moments with their child.
The power of photography is not lost on us. Our parties are carefully crafted to ensure each moment is a potential memory. From photo-ready tea parties to glamorous makeovers and dance parties, we provide the perfect setting for pictures that will be cherished for years to come. Plus, with various fun selfie walls to pose in front of, our entire Sweet Boutique is picture-perfect for your little one's celebration.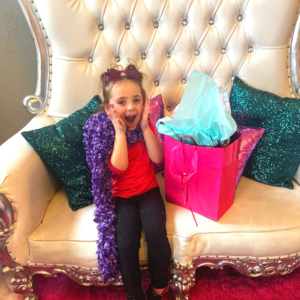 The mark of a truly successful party is when children can't wait to do it all over again. At Sweet Celebration Parties, we've seen countless little ones return year after year, and sometimes, they bring new friends along to experience the magic with them. The combin
ation of fun, creativity, and an all-inclusive approach is the secret to our enduring appeal.
Are you ready to create unforgettable memories for your child? At Sweet Celebration Parties, we believe in turning moments into memories, one celebration at a time. 
Book your party today to start planning your child's next magical experience. Whether it's their first visit or a return trip to Sweet Celebration Parties, the magic awaits!