While last year birthday parties looked and felt a lot differently than they ever have before, a lot of families and businesses have rolled out new and creative ways to give children a magical birthday experience despite a global pandemic.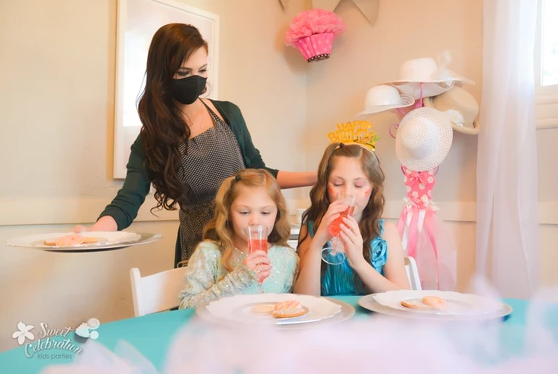 At Sweet Celebration Parties, we believe that you can enjoy safe and magical memories without sacrificing all the fun. Our venue is, and always has been, a private booking only boutique. That means, that when you arrive to your party, our party hostesses are there just for your celebration and no other birthday groups are around to take away from that ultimate VIP experience. Whether you decide to invite a few close friends, cousins or are simply celebrating your little one's birthday with your own household, we will make it a party they'll never forget.
In fact, we've seen a surge of sibling, cousin, and solo celebrations in the past year that have brought tears to our eyes with our precious and magical those moments were. While you could stay at home and celebrate, there's just something a bit more magical about getting in the car, dressing up and treating your little cuties to a trip to a fairy-tale-esque boutique with a royal treatment awaiting them. Our team has enjoyed seeing sibling celebrations so much this past year, that we've rounded up 5 reasons you should book a sibling party at Sweet Celebration Parties this year.
Get out of the house
You can relax knowing that you and your household can enjoy a private get-together without the need to deep clean the house and prepare for a birthday celebration. Don't worry about creating any checklists, skip the party store visit, and rest easy while our team does all of the work for you. All you have to do is grab your kids and head on over to your scheduled party time slot. We deep clean our venue after every party and have purposely scheduled bookings 30 mins apart to allow our team to prepare and disinfect between celebrations. Our venue also has a Parents Lounge, so you can take time to relax while we ensure your little ones are enjoying their VIP experience.
Avoid offending anyone
With a sibling birthday party, you can throw out that guest list or the role of having to monitor someone else's child. We've all been there before, trying to determine how many friends and what friends to invite to your celebrations. Instead of trying to play musical chairs with your guests and instead of taking on yet another responsibility this year, simply skip the whole thing and enjoy knowing that the only thing you're in charge of is waking up and arriving to your Sweet Celebration.
Clear that to-do list
As we mentioned previously, we are here to take care of your little one(s) from the moment they arrive. That means, we're here to take care of you as well! You can take a deep breath knowing that there isn't the need to grocery shop, decorate the house, plan anything or, most importantly, clean up! We do it all.