Although we offer exclusive birthday celebration packages for Colorado Springs kids birthday parties, parents and children across the globe are wondering how and where to celebrate their little one's special day.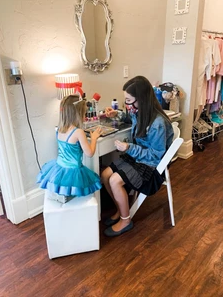 Hosting a small gathering at your home for a kids birthday party carries with it the never-ending to-do list of cleaning, prepping, shopping, decorating, sanitizing, cleaning and more cleaning, not to mention the hosting that goes along with it. Trying to host a celebration outdoors at a park or in the yard is great for summer birthdays but does carry with it the potential of summer rainstorms.
For Spring, Fall and Winter birthdays, however, the weather doesn't always allow for outdoor celebrations – so what are you to do? At Sweet Celebration Kids Parties in Colorado, we are all about making birthdays for kids and their families magical. 
Our birthday party planning experts have put together a list of fall birthday party must-do's to ensure that your little one's special day goes off without a hitch and you can rest easy knowing that they've had a blast in a safe and memorable way.
Host a private celebration
Limit the quantity of people you invite and opt for close friends and family members and limit your guests to less than 10 people in total. Encourage mask-wearing and opt for video calls for friends and family members that cannot attend in-person so that they still can be a part of the moment together.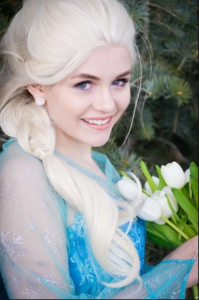 At Sweet Celebrations, we have always only ever offered private birthday party bookings. That means that your celebration is the only one occurring in our venue throughout the entire party duration – no interruptions! You and your little one get our full attention and the VIP experience of enjoying our Sweet Boutique, rockstar Style Stations, Sparkle Café, Parents Lounge and our glam accessories Celebration Wardrobe. We also offer a one-on-one private Princess Experience that is PERFECT for just your close family members and your child as they enjoy a magical moment with a famous princess while toasting their special day together.
Princess Parties in Colorado are a great way to make your little one feel like they've stepped into a magical wonderland without having to travel far from home. Don't forget to grab your phones for these snap-worthy moments and call-in any loved ones who don't want to miss the magic. Our professionally trained Princesses sing memorable favorites for a precious sing-along moment, perform a royal coronation ceremony complete with a sequined tiara to take home, and share a heartfelt moment as they read a story from our Fairytale Storybook before leading a Happy Birthday Song to make your little one feel like the Princess or Prince they are inside!
Disinfect & offer hand sanitizer
We highly encourage keeping hand sanitizer and disinfectant wipes readily available throughout the party so that guests can frequently wash their hands, especially before and after eating, and so that you can disinfect commonly touched surfaces. 
At Sweet Celebration Parties, we have all guests and staff wash their hands upon entering the building and masks must be worn by all guests over the age of 10. We also have a professional cleaning crew that is contracted to sanitize and disinfect our entire building each week.
Following every birthday party, our Sweet Celebrations crew thoroughly sanitizes all commonly-touched surfaces to ensure that everything is clean and ready for the next party. Most kids birthday party places will offer some form of messaging about their COVID-19 policies and procedures, and should full disclose this information to you whether on their website or in-person. At Sweet Celebrations, this information can be found on our website, in our Sweet Boutique and we are always happy to answer any questions you may have about our best practices to reduce the spread of COVID-19.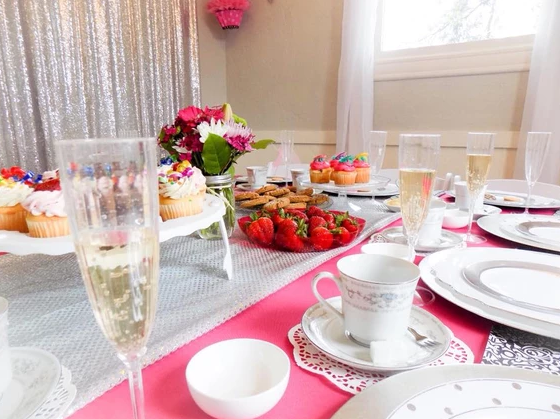 Offer pre-packaged or pre-sorted snacks
Reduce the likelihood of having food touched by multiple people. Instead, opt for packaged or pre-sorted snacks on plates and use utensils like tongs to help serve things that are set out ahead of time. Avoid having multiple people serving food, instead have a designated person passing out food and drinks while wearing a mask and having on gloves or freshly washed hands.
Our Sweet Celebration Party bookings all come with a birthday party hostess that helps keep your little one's birthday party running smoothly. We take care of the small details like table settings, cookies and bubbly flutes of golden soda "kids' champagne" to enjoy when it's time to celebrate their special day. You are always welcome to bring in your own cupcakes or cake, if you'd like a little extra sweetness added. 
Capture the moments
No matter how you end up celebrating your little one's special day, it's important that you make the moment as magical and memorable as you can. Take lots of photos, setup a photo booth or ask about our Sweet Celebrations Pink Runway – it's the perfect place to snap selfies in front of our glitter backdrop before heading home to open presents while we do all of the party cleanup. To reserve your party at Sweet Celebration Parties, we can book out as far as 2021, so what are you waiting for? Take one less thing off of your to-do list and let us help make your little one's birthday one they will never forget.