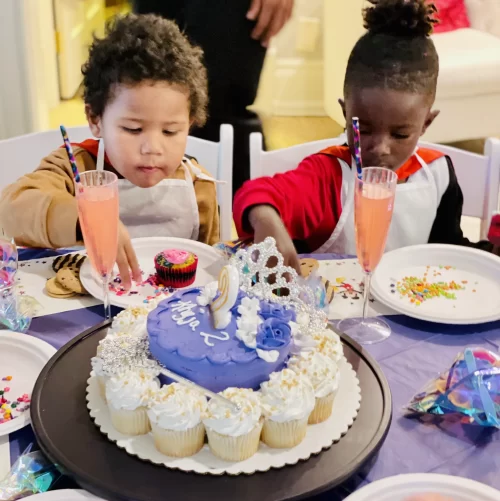 #1 Fun.
Yes, your birthday boy or girl and their guests are guaranteed to have a ton of fun! Sweet Celebration offers a party theme perfect for every age and interest including: a bakery party, glam party, superhero party and many other options. You can also book a princess for your party for an extra sweet experience. Princesses perform magical coronation tiara presentations for guests and love to take selfies too.
#2 Both Boys & Girls Enjoy Sweet Celebration Parties.
If you think Sweet Celebration Parties are just for girls, think again! We've got plenty of fun for the lil dudes too. The celebrations wardrobe includes cool shades, masks, capes and crowns. Hair chalk from our style station is also a big hit for the guys.
#3 Frameable Photos.
Say Cheese! We've got so many great spots to snap a pic. The luxury birthday throne is a favorite instagramable location. Our glitter wall is also a great backdrop for your birthday boy or girl. Sweet Celebration princesses love to smile for photos with their new friends. Our hostesses always make time for a group photo at the end of the celebration.
#4 No Mess for Mom or Dad!
A big mess is evidence of a ton of a fun! Our party hostesses will pick up every sprinkle, paper and ribbon from the celebration. Disclaimer: parents might just take home a birthday boy or girl with sticky fingers and a frosting covered smile! Both guaranteed at our cupcake decorating bakery party.
#5 Parents can party too.
That's right parents aren't required to do anything but enjoy the party! Sweet Celebration Parties even has pre-party tasks covered. We provide printable invitations for your party guests. Our party hostesses have got you covered on party day too. Sweet Celebration Parties' decor is fancy, and all set up before your guests arrive. Our hostesses will guide guests from activity to activity within our party boutique. They also pour the drinks and serve the sweet treats. Book Sweet Celebration Parties online today!