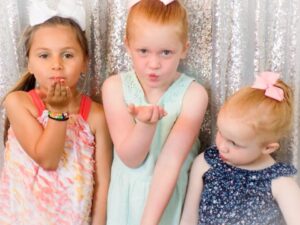 While hosting a birthday party at home for your little one and their friends may seem like a great idea, it's often the pre-party planning, on-site monitoring, entertaining, and post-party cleanup that leaves you second guessing why you would ever hold a toddler party in your home.
Fortunately for you, we've got all the things to make your toddler's birthday bash a party to remember – we're talking good memories, not the ones left behind as furniture stains from spilled red bubbly soda (ahem, which we do offer but totally have under control). Again, nothing you have to worry about when you book a Sweet Celebration Party for your child's birthday celebration.
Located in beautiful downtown Colorado Springs, our kids birthday party venue offers everything you need to host your little one's special day without the headache. In fact, our party hostesses have put together all the details of our top picks for a fabulous Spring birthday party so you can either take these ideas and run with them or let us help take them off your plate.
Use Festive Birthday Party Invites
It's always a good idea to have invites for your guests so that your child can feel like the VIP they are as they hand them out to friends. At Sweet Celebration Parties, all of our birthday party themes include free downloadable invites (teal or pink) that you can print at home or email out to your guests.
Host a Themed Party
Ever host a kids party without a theme? Spoiler, it doesn't go well. Even if you have a basic guideline of what kids can expect, having a theme makes the entire experience feel well-planned, organized, and gives the little ones something to look forward to. It also makes planning out the event a breeze. At our party place for kids, we handle the entire theme through planned activities. While all of our party themes include invites, mini-manicures, makeovers, cookies, soda, and a dance party, they all have their own unique flair! Our most popular toddler party themes this year are our Glam Party and Tea Party. These parties are great for boys and girls to get dressed-up (princess outfits, superhero costumes, and more) and enjoy feeling like the stars of the show.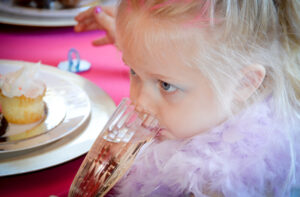 Light Snacks Are In
Gone are the days of heavy meals for kids at parties! How many times have you planned huge spreads of food for kids and had so much wasted? It's because they're busy running around playing and enjoying the celebration. Instead, opt for lighter snacks that are quick and easy to grab and enjoy without a huge mess. At Sweet Celebration Parties, you're welcome to bring in your own food to the party, but we've found that the kids are having so much fun jumping from activity to activity that pizza boxes and huge cakes are rarely consumed. Instead, we provide delicious cookies and flutes of bubbly soda to enjoy at our pre-set birthday party table (underneath a glittery chandelier) before getting back to the fun in our Sweet Boutique!
Include Something Physical
Little ones, especially toddlers, have energy for DAYS! Offering a physical activity or experience for them to play and enjoy will not only help them feel like the party was a hit, but helps burn off energy so they can rest easy the rest of the day – and so can you. Fortunately, we've got the downtown venue and fun to host your private party so that all the energy can be burned off here and not in your living room. We're talking a dance party in our boutique complete with music, lights and a glitter wall that sets the stage for the perfect instagram-worthy photo.
Whatever you decide, hosting a party for your toddler and their friends doesn't have to be stressful. With our above tips, the celebration can be sweet and when you book a party with us, it's even sweeter because all you have to do is show up. Check out more of our party themes or send us a message.