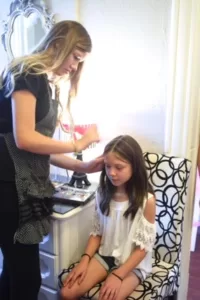 Ombré purple tips, streaks of pink or cotton candy hair – you can get it all with hair chalk!
Hair chalk is an alternative to permanent or temporary hair dye and works wonders on your hair since it disappears after one wash. It can give you funky color and fabulous looks for special events, like your birthday!
Hair chalk is awesomely easy to apply, here is a step by step guide on how to chalk your hair: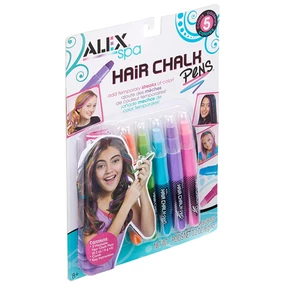 1. Buy your chalk
Here at Sweet Celebrations, we use the Alex Toys Hair Chalk Pens, which you can easily find at Walmart. This hair chalk you apply to dry hair of any color. Easy peasy lemon squeezy!
2. Prep your hair
Make sure to prepare where to apply by coaming your hair.
3. Add the color
Use a downward motion when applying the chalk, you can also twist your hair as you chalk. If you want to be a bit more adventurous you can try and go for a fun ombré look.
4. Apply glitter
We always offer to set the color with glitter spray, which makes you not only get the perfect coloring you want but also make it pop with some glitter!
5. Wash it out whenever you feel like it
A question frequently asked by parents is "will the color ever go away?". The color will only last one shampoo. Easy come, easy go!