Kah-POW! Bring out your inner superpowers with our all new Superheroes Party. Perfect for boys and girls, this party package includes all the essentials for the ultimate Superhero Celebration.
Your Superhero birthday celebrator can invite all of their favorite fellow Superheroes and sidekicks to join them as they gear up to take on another year. This party theme allows kids to discover their inner Hero, play dress-up, and have a blast pretending to be their favorite characters.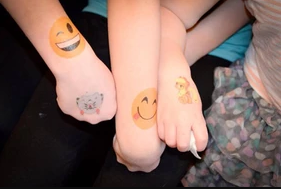 After checking into our Style Stations where our Party Hostesses help them transform from their secret alias to their magnificent Superhero Character, your little one and their guests can enjoy putting together their new disguise in our awesome Superhero wardrobe – complete with masks, capes, dresses, hats and accessories.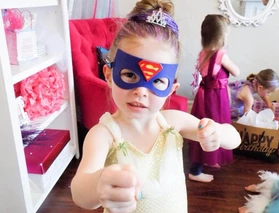 After all Superheroes have had some fun discovering their new costumes, our team will escort them to the Super-Secret Superhero meeting in our Sparkle Café where they will enjoy sharing tales of their ultimate superpowers while refueling with cookies, bubbly golden Superhero soda, and singing Happy Birthday to their best buddy.
Once they've created their ultimate look and enjoyed the Super-Secret Superhero meeting, guests can enjoy celebrating in our Sweet Boutique with hit Superhero theme songs, cool light displays and all their friends for the perfect photo opportunity.
At the end of the party our Superheroes will hit our runway for a grand finale Superpower Strut and Dance Party to commemorate their fellow heroes before zooming off to their secret hideaways.