Our party hostesses have rounded up our top picks and tricks for celebrating children's birthday parties during the Spring! In Colorado Springs, well in Colorado alone, the weather can be a bit unpredictable during Spring. Which is why we want to start off with the recommendation of celebrating with an indoor birthday party. While you may not want to celebrate in your own home (we totally understand this ever since COVID hit) there are other option to ensuring your little one can feel the magic of their special day without risking your wellness or that of others.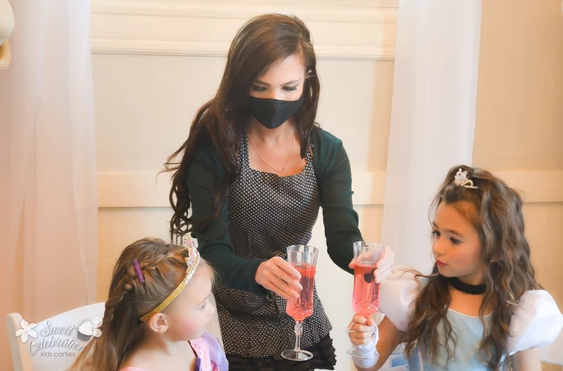 Celebrate Indoors Safely
If you do opt to host a party at your house, we recommend containing the celebration to one room. That way you can focus your pre and post sanitation efforts to one concerted area rather than having to deeply disinfect your entire home. At Sweet Celebrations, we have our staff constantly disinfecting the entire boutique before, during and after each celebration. We also book parties half an hour apart from other parties to ensure that we can avoid having different parties crossing paths and also to fully clean in between celebrations.
We also have a weekly professional cleaner taking care of some of the deeper cleaning efforts to ensure that our venue is not only sparkling clean, but safe as well. Wearing masks is also another way to ensure your celebration is safe. When hosting in your home, encourage children ages 10+ to bring their favorite masks or to decorate their masks for the celebration. Require that parents do front porch drop-offs and pick-ups as well to avoid unnecessary entry to your home. At Sweet Celebrations, we require that guests' parents do porch pickups only. The birthday child's parents are welcome to stay onsite, however, masks are required throughout the celebration at all times. We also ask that all guests (of all ages) wash their hands upon entry with soap and water in our onsite restroom. Having a hand washing station with fun music playing can help encourage thorough hand washing at your home. We make this one of the first steps of celebrating during all of our birthday party bookings. We also offer hand sanitizer throughout the party, as a secondary option following the initial hand washing to be extra careful.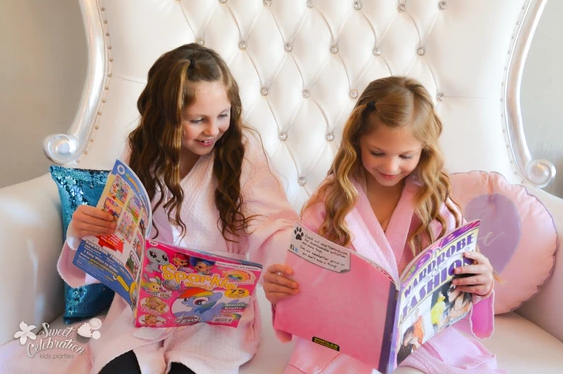 Pick a Party Theme
To ensure that your little guests have a magical time, pick a party theme that everyone attending can enjoy and include interactive elements like a dance party, fashion show or nail painting station. All of our birthday party themes come with exclusive VIP treatments to ensure your party goers can feel oh-so-fabulous.
We provide makeovers at our Style Stations (fully masked) that include mini-manis, glitter hair or neon unicorn hair color (washable), emoji tattoos, makeup, and an all-access pass to our Celebration Wardrobe and dressing room complete with princess dresses, tulle accessories, superhero costumes, fairy wings and all the magical dress-up attire that boys and girls can enjoy together before hitting the runway for their own fashion show and dance party.
Some of our most popular Spring Birthday Party Picks are:
Celebrate your little one's special day without the stress by booking with us today! You can plan out your party as far out as December and rest easy knowing that we'll help take care of everything for you. To get on our calendar, simply select one of our all-inclusive birthday party themes, pick the date and time, reserve with a deposit and relax knowing we'll help you with the rest. To check out some of our frequently asked questions, visit our FAQs page.