Summer is the perfect time for hosting your next slumber party! At Sweet Celebration Spa, we love adding that magical touch to each of our celebrations that keeps the memories alive for years to come.
One of our favorite entertainment past times is making our guests feel oh-so-fabulous! Whether through our Superstars Party, Spa Party, or through one of our quarterly Princess in Pajama Parties, we're all about it honey.
Naturally, when we came across these adorably majestic no-sew unicorn sleep masks, we just had to try it. Here's how to make them!
Supplies:
• Craft paper (for creating the templates)
• Craft felt sheets (the more colorful and sparkly the better)
• Marker
• Craft scissors
• Craft glue
• Hole punch
• Elastic bands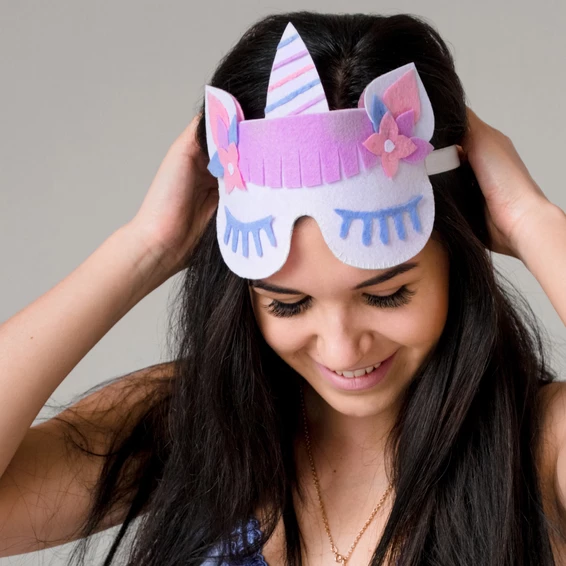 Step 1
Gather all of the most glittery and colorful craft felt you can find!
Step 2
Using craft paper, cut out the shape of an eye mask, unicorn horn, eyelashes, mane, ears and any other shapes your heart desires (we're thinkin' flowers, stars, and clouds are a good start).
Step 3
Once you have your basic templates cut out, trace them out on your favorite felt sheets with a marker, then cut them out.
Step 4
Using craft glue, assemble your eye mask!
Step 5
Using a hole punch, punch out two holes on both long ends of the eye mask. Using your elastic band, wrap the band around your head to measure the size of your eye mask band. Using a marker mark where the band needs to be cut. Cut the band and then tie each end of your elastic band in knots on each end of your mask.
Step 6
Grab your mask, your besties, and get ready for some selfies and feeling magically fabulous!