Birthdays are special and full of fun, and it's important that the birthday girl or boy has their time to shine. This spotlight can be difficult to maintain when there's siblings involved in the celebration. Sweet Celebrations has some simple tricks to make sure the Guest of Honor is given the attention they deserve on their birthday!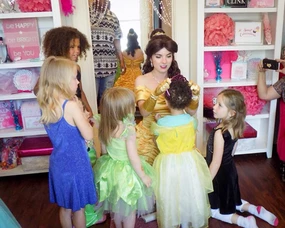 1. Princess Coronation for the Guest of Honor
Our princesses make every birthday celebration magical! They focus on the Guest of Honor by crowning them during a special coronation ceremony, and the Guest of Honor gets to keep the crown!
2. Special Seat in the Sparkle Cafe
Our signature Sweet Treats and flutes of bubbly "champagne" are served in the Sparkle Cafe, and the Guest of Honor is given a distinctly unique seat at the table! The birthday seat is decorated with frills and fairy wings, and it's positioned in front of our Sparkle Wall so every picture has a beautiful background!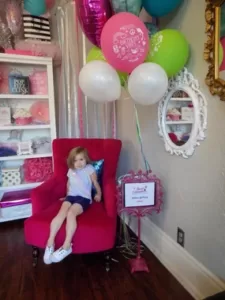 3. Birthday Throne
To make present opening less chaotic and put everyone's attention on the birthday kid, Sweet Celebrations provides a prominent birthday throne! The Guest of Honor sits on the plush pink chair while opening gifts, making them the center of attention!