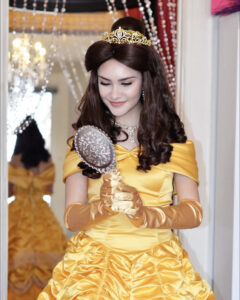 Halloween is the perfect time to channel your inner princess (or your favorite little girl's inner princess). We've got some professional tips from our Sweet Celebration parties' princess!
1. Start with the Outfit. Of course, every princess needs the perfect dress! There are plenty of options online and at party stores. Or you can spruce up something in your closet. Grab your favorite tutu, sparkly tights, and a tee because accessories are really the key! At Sweet Celebration parties we offer exclusive VIP (very important princess) access to our celebrations wardrobe!
2. You can't over Accessorize a Princess. The most crucial accessory is the tiara. Sometimes they come with the dress. If not, you can usually find a tiara at a nearby store or online. If you want to add more glitz, go ahead! Use a glue gun to add diamonds, pearls and gems. Long white gloves are super cute covered in stacks of shiny bracelets. And don't forget the wand. Again, those are fun to make with your princess to be! Add tie-on streamers, and fake flowers, then glue lots of glitter! Make magic happen. At Sweet Celebration Parties, our princess appearances include a tiara and a princess etiquette lesson.
3. Shimmer and shine makes the perfect princess makeup. Grab a little shiny pink eyeshadow and use it for her cheeks and eyelids. There are several lines of phthalate-free makeup designed for little beauties. Then add some glimmer lip gloss and your little girl will look like a princess. We offer makeovers and stylings with all of our parties.
4. You can't go wrong with curls! The princess tiara lays perfectly on a head full of soft curls. If the curling iron isn't a princess favorite yet, try some soft rollers she can sleep in. It is super fun for little girls to princess prep the night before!
Don't forget to capture a photo of your picture perfect princess this Halloween! Contact Sweet Celebration Parties today to learn more about our princess party appearances with any of our booked party themes.