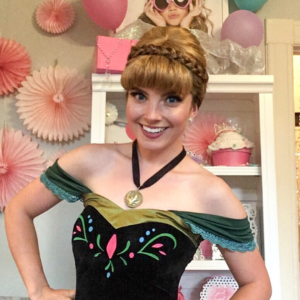 We think some company is overdue! Our Princess Pick of November is our Ice Princess! A Princess Add-on to our Glam or Tea Party adds a royal touch to make your child's day truly magical. 
Our Ice Princess cannot wait to meet all of her new friends at your child's Sweet Celebration! She will arrive ready to entertain guests in her beautiful, green, coronation dress! Our Ice Princess can't wait to sing about building snowmen and celebrating with lots of warm hugs.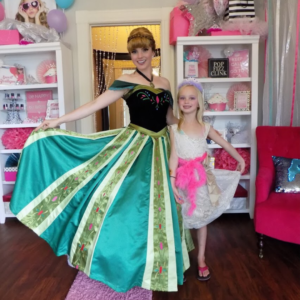 All of our Princess Appearances include:
Coronation for the birthday child 

Musical solo princess performance 

Sing-along time

Princess & prince etiquette lesson

Birthday celebration in our Sparkle Cafe

Story time

Photo time

Gift from the princess
Our Ice Princess will be at your Sweet Celebration for 30 minutes in the middle of your party and is sure to WOW guests with her magical performance and storytelling. Celebrate together in the Sparkle Cafe and enjoy some sweet treats along with bubbly soda served in sparkling champagne flutes. Don't forget to take photos in front of our Shimmer Wall to remember the special day.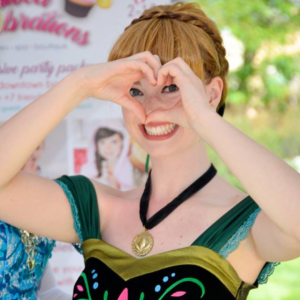 You can also book a 1-on-1 Princess Party Experience for just your little one and maybe one or two of their friends to enjoy if you're looking for a more intimate meet and greet experience in Colorado Springs. 
This princess party allows your child the chance to enjoy a private, hour-long Princess Party, complete with a glamorous makeover done by your child's favorite fairytale Princess, story time, sing-along fun, an etiquette lesson, coronation with a gift from the princess, dancing, and plenty of photos!
To check out more of our Princesses, you can see our full cast here or to view other party options, you can click here.