Princesses are beautiful, they wear extravagant gowns, and their stories often revolve around finding true love; but they also serve as extremely positive role models for every child, boy or girl, toddler or tween.
Being a princess requires much more than looking pretty and finding a prince to live happily ever after with. You must be strong-willed and brave, and stand up for those who can't stand up for themselves. Princesses are kind and loyal, and always see the beauty in those around them, regardless of outward appearance.
At Sweet Celebrations, we believe that the lessons princesses teach about how to treat others and how to fight for what is right are valuable lessons for all! Our special coronation ceremony requires the Guest of Honor to promise to be kind and respectful to everyone, and to help those in need. All of these qualities are what make a princess true royalty!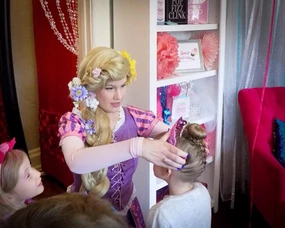 Add a princess to any of our birthday party packages for a magical experience your Guest of Honor and their friends will always cherish!