Every year starts with calendar planning and the intention to be as organized as possible, but as the days turn to weeks and the weeks turn to months the ability to juggle everything that life throws your way quickly becomes more challenging.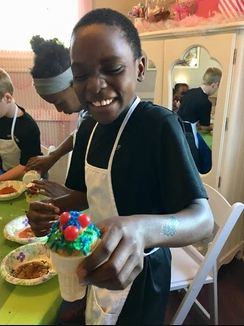 Fortunately, birthdays don't change date every year and can be taken off of your plate by booking the date now for later with our date-change-flexibility calendar bookings. Have a birthday in December? Pick your desired date and time now with a deposit while the calendar is more widely open and know that if you need to change the date or time, we're always happy to reschedule it.
Reserving a party date early also can space out the expense of the celebration so that you pay a deposit now with the remainder on the day of your booked party. This is often helpful for families celebrating with siblings and their friends.
When you book your celebration with us, we also help take care of all the little details. You'll receive a confirmation email as a friendly reminder of your party booking and will also have access to our downloadable birthday invites so that your little one can print them out and send them to their friends.
We will provide birthday party hostesses on the day of your celebration to ensure that the moment you and your guests arrive, we take care of everything from the entertainment to the birthday celebration in our Sparkle Cafe where complimentary cherry soda and our signature cookies will be served. Please know that you're welcome to bring in your own cupcakes or cake as well and we will provide the candle and lead the celebration song.
Depending on the party theme you've booked, rest easy knowing that your little one and their friends will enjoy music, dancing, dress-up, and stylings at one of our Style Stations before striking a pose in front of our glitter wall in the Sweet Boutique.
So, whether your little one's birthday is next week or next year, you can get on the calendar with us today to ensure that there's one less thing on that growing to-do list!