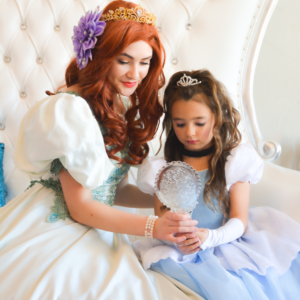 At Sweet Celebration Parties, we believe that every child deserves a day of enchantment, where their dreams come to life and magic fills the air. Our One-on-One Princess Parties are the epitome of an exclusive experience reminiscent of the happiest place on earth, where children have the opportunity to celebrate their special day alongside their favorite fairytale princess! Join us as we unravel the enchanting details of our One-on-One Princess Parties, where dreams take center stage.
Our One-on-One Princess Parties offer a level of intimacy that's simply unmatched. It's a chance for your child to have an exclusive and privately held celebration in our downtown boutique with their favorite princess, creating memories that are sure to last a lifetime. From the moment your child comes into our boutique, they are greeted by the warmth and grace of their chosen princess. This specialty party encounter comes with an array of delightful activities and experiences. 
A Magical Makeover: Your child will be treated to a magical makeover by their chosen princess. With fairy dust hair glitter or colorful hair chalk, eyeshadow, blush, and lip gloss application, your child will truly feel like royalty.
Dress-Up Time: Your little one will have the opportunity to choose from our extensive accessories wardrobe, which includes princess dresses, fairy wings, fabulous hats, and glamorous attire to try on. They can truly become the character they adore.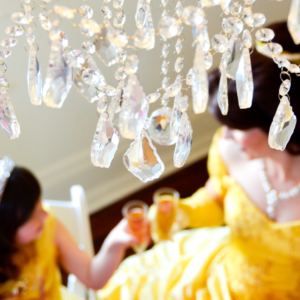 Party with a Princess: The princess herself will guide your child through an hour of fun in our boutique.From dress-up to sing-alongs, every moment is filled with laughter and magic.
Princess Etiquette Lesson: Your child will learn the manners and etiquette befitting royalty, imparted by their princess mentor.
Royal Coronation Ceremony: Every princess needs her coronation! Your child will be crowned in a special ceremony, sealing their status as a true VIP (very important princess).
Sing-Along Time: What's a princess party without a sing-along? Your child will have the opportunity to sing their favorite songs alongside their princess companion.
Special Gift: As a token of their magical day, your child will receive a special gift from their princess as a keepsake that they can cherish forever.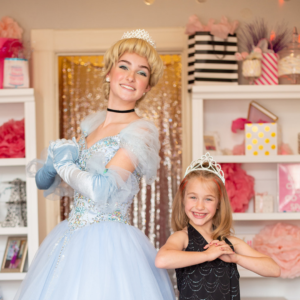 Sweet Celebration Parties offers a wide range of beloved princesses to choose from. Whether your child dreams of being Cinderella, swimming under the sea with our Mermaid Princess, sharing adventures with our Beauty Princes
s, ruling over a frozen kingdom with the Ice Queen, exploring the desert with our Arabian Princess, embarking on icy escapades with our Snow Princess, or letting down their hair with our Rapunzel Princess, we have the perfect princess for every little dreamer.
With so many princesses to choose from and a plethora of delightful activities, your child is sure to have a day filled with enchantment and joy. It's a truly unforgettable experience that will be cherished for years to come. Don't miss the chance to create magic and memories – book your child's dream princess party today!