When it comes to planning family trips this year, things have most certainly taken a turn. Visiting magical wonderlands is a lot harder to accommodate than it used to be and little ones and magic-lovers alike are missing their dose of happiness and pure joy without these favorite theme-park visits.
Luckily, Coloradans don't have to travel far to enjoy a magical moment with fairytale favorite Princesses. At Sweet Celebration Parties in Colorado Springs, our professionally trained musical and theatrical performers make you feel like you've traveled into a land far away full of magic and bliss for a fraction of the cost of traveling to the East or West Coast!
With our Private Princess Experiences you and your little ones can enjoy a privately booked Meet & Greet with favorite Princesses like our Beauty Princess, Cinderella, Mermaid Princess, Arabian Princess, Rapunzel or our Snow Queen and Ice Princess without having to worry about airfare, travel expenses or the crowds!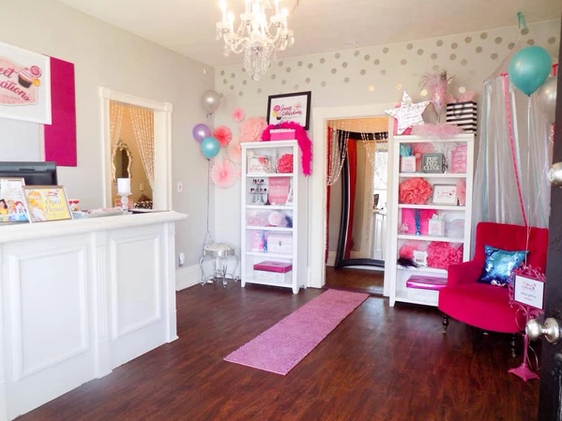 The Private Princess Experience
Our fairytale-themed lattice doors of Sweet Celebration Parties will open just for you and your little one as you enter into our glittery pink Sweet Boutique to enjoy an hour of absolute magic, Princess pampering and a whole lot of fun with one of our Princesses.
Enjoy dress-up time with our Princess • Select adorable accessories to try on during the party from our Celebrations Wardrobe

Treat yourself to a magical makeover session by our Princess • Enjoy sparkly hair glitter application or colorful hair chalk • Feel marvelous with pretty Princess makeup applications • Relax to mini manis done by our Princess

Celebrate with a Royal Party in our Sparkle Cafe • Enjoy toasting flutes of bubbly golden soda "champagne" • Savor decadently sweet cookies • If celebrating a birthday, you're welcome to bring your own cupcakes or cake

Enjoy singing along to favorite songs and a special gift from the Princess

Don't forget to take plenty of photos!