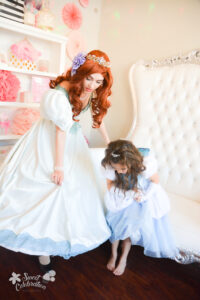 Life is the bubbles with a Mermaid at your birthday party! Spring and summer birthday parties are booking fast in our downtown Colorado Springs kids birthday party boutique and our Mermaid Princess is ready to party seaside with your little one and their friends.
Arriving for 30 minutes into your Glam or Tea Party with us, our Mermaid Princess will arrive in her beautiful teal wedding gown with pearls while she enjoys dancing on – what are they called again? Oh, that's right, feet! While she's enjoying her land legs, she'll sing along with your child to favorite songs they know and love, team them how to be a royal princess with our signature Princess Etiquette Lesson. She will top the ceremony off with a royal coronation and gift tiara to the birthday child.
Next, they'll enjoy celebrating cookies and champagne flutes of bubbly soda (no forks for this princess) in our Sparkle Cafe where she will lead the celebration song Happy Birthday for your child. Nothing quite feels as magical as having your fave princess sing you Happy Birthday!
After celebrating in the Sparkle Cafe, our Princess will share a story with your child and their friends of her magical experiences before joining all in our boutique for photos and farewells! You can also host a private 1-on-1 Princess Experience with our Mermaid Princess if you're looking for a more intimate meet and greet for just your child and maybe one or two other guests. This party theme is hosted for 1-hour and includes a makeover done by the Mermaid Princess herself!
To check out more of our Princesses, you can see all of our cast here or to view other party options, you can click here.