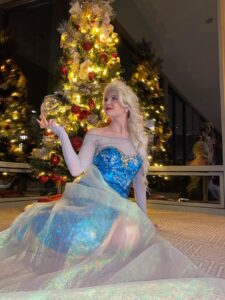 It's time to celebrate all little Princes & Princesses born in December!
Our Snow Queen's favorite birth month is you guessed it- December. She loves December because it is the month winter begins and when we get snow in Colorado Springs.
You can have our Snow Queen at your Sweet Celebration Party or one-on-one Princess Experience. She'll mesmerize guests in her sparkling, blue dress and signature, sparkly cape! She cannot wait to sing her guest's favorite songs and crown them with a tiara.
Kids born in December also share their birthday month with some big holidays, Christmas, Kwanzaa, Hanukkah, and New Year's Eve too. It is so important they have a celebration just for them that feels special and apart from the other festive occasions! Sweet Celebration Parties creates memorable birthday parties and allows parents time to plan for the very busy month ahead!
Book a party online today!