Calling all bakers! Grab your aprons because it's time to get decorating – cupcakes, that is! Want to have the best Bakery Party this summer? DIY is the way to go! Kids have way more fun when they get to be involved. If you're not sure where to start, don't worry, we've laid out all you need to know to wow kids and parents alike with these exceptional party tips. We even have a party theme dedicated to the occasion right here in our on-site downtown party boutique in Colorado Springs.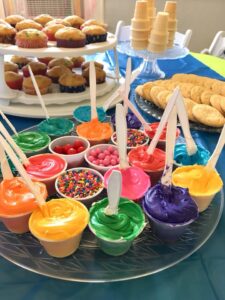 Prep beforehand – Don't let the stress of prep bring down the fun! Have the cupcakes pre-made and ready to decorate before any of the kids show up. Pre-make the frosting too, but don't add the food coloring yet. Let the kids mix their own colors and see what they create! 
Decorations are a must – Stock up on candy for every kid to decorate their cupcakes in their own way. Let them get creative with different candy and frosting color combinations. Don't forget about sprinkles either!
Keep it clean – Give each kid their own apron to cover their clothes. Aprons add to the fun baker experience, plus it helps keep everything clean. Try-on aprons are included to borrow at every Sweet Celebration Parties Bakery Party.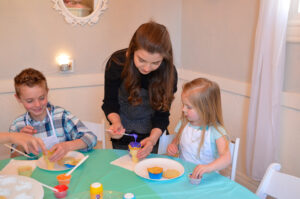 Add a little friendly competition – Make it an event! Give out awards for each cupcake like 'most candy used', 'most colorful', 'best decorated, 'prettiest frosting', etc. Make sure each child gets an award so no one feels left out.
Commemorate the experience – Set the stage and let the kids show off their masterpiece before they enjoy their sweet treats. Snap a photo of each baker and their cupcake creation in front of a fun backdrop to remember the experience! Our boutique has a shimmer wall that sets the tone for the perfect backdrop that is oh-so instagram worthy!
When you host a Sweet Celebration Bakery party, all of this is included, plus some fun extras like mini manicures, temporary tattoos, and colorful hair chalk. We'll provide the cupcakes, frosting, decorations, and even a super sparkly glitter backdrop for pictures. Dance off the sugar rush with some fun music and make it a day they'll never forget when you book with us for your child's special day! 
We accept bookings now through December so you can reserve popular weekend days and times and never have to worry about where or what you'll be doing for their big day! Click here to view our Bakery Party calendar.