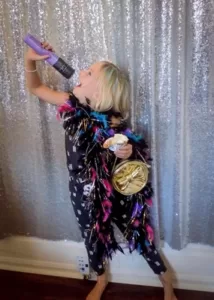 Let your child's inner super star shine with our Sweet Super Stars party package! Our Celebrations wardrobe has everything our Guest of Honor and their friends need to have the ultimate dress up party!
Guests will get mini makeovers including glitzy glam nail polish, colorful hair chalk, and sparkly eye shadow in the Glam Lounge. Then after runway training, they'll strut their stuff on our Pink Carpet!
Book your Sweet Super Stars Party today!