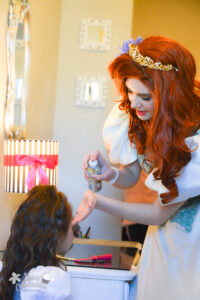 At Sweet Celebration Parties, a fabulous kids birthday boutique in Colorado Springs, we bring your child's favorite fairytale to life. Did you know "Tell a Fairytale Day" was celebrated February 26th? Of course, it's an unofficial holiday, but we celebrate fairytales every day at Sweet Celebration Parties. Here's why.
Reading, telling and sharing fairytales sparks the imagination of children of all ages. Hosting a party at Sweet Celebration Parties is a magical experience. Your child can be surrounded by their favorite fairytale princess and their friends and family to celebrate any special occasion – birthdays are our speciality.
Fairytales have all kinds of interesting characters including princes and princesses, mermaids, fairies, trolls, unicorns and all mythical beings. Sweet Celebration Parties has an exquisite Celebrations Wardrobe for our guests to enjoy. Party-goers can become a princess or any other character they dream up with our accessories.
Our magical Princesses
 read stories during their party appearances, most often fairytales. Our own magical Cinderella can tell her story. She speaks in detail about her life with her evil stepmother and stepsisters, and bursts into joy talking about the night she met her prince.