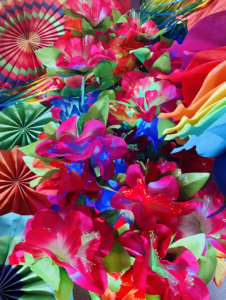 By popular demand, we're launching a new Princess in our kids birthday party boutique! Our Miracle Princess is soon going to be available for your child's birthday party in our downtown Colorado Springs birthday party venue for kids. Paired with either our Tea Party theme or our Glam Party theme, your child and their friends can enjoy the magic of the season with this Princess while celebrating their special day with friends.
When you book a party with our Miracle Princess, we'll include everything from sing-along time, a Princess etiquette lesson, dancing, celebrating in the Sparkle Cafe with cookies and champagne flutes of bubbly soda. Then, you can enjoy photos together in our Sweet Boutique. We also provide Encanto-themed decorations throughout the party – including the magical candle!
While our Princess is still getting ready to celebrate with your little one for their special day, we plan to launch this kids birthday party option in May of 2022. Stay tuned for more updates and be sure to check out our entire list of kids birthday parties if you're looking for other party options like our Superheroes Party, Bakery Party or Dance Party! For more information, check out our FAQs page or feel free to contact us with questions.