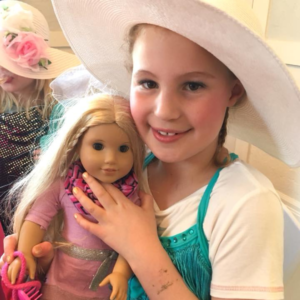 Whether real or imaginary, Tea Parties create fanciful fun for kids of all ages. Sipping tea out of elegant china teacups, donning the perfect tea party hat, and clinking cups with guests, you can never go wrong with a few teddy bear or doll attendees either, but a few friends always add to the fun!
Our elegant High-Tea Party is an indulgence your child and their guests won't want to miss. Come dressed for the occasion or pick an outfit from our Celebration Wardrobe. Guests can also choose fun accessories such as hats, boas, sunglasses, and beads.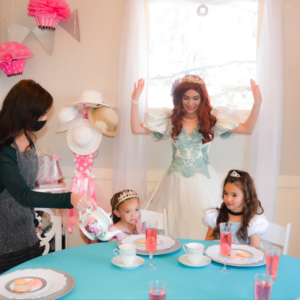 Add the finishing touches with a glamorous makeover and mini manicures. Lip gloss and eyeshadow will be applied by our hostesses for the perfect photo-finish look. Top off the fabulous look with sparking hair glitter or colorful hair chalk.
Once the guests are dressed to the nines, our party hostesses will take guests to our Sparkle Cafe to enjoy delicious cookies, champagne flutes filled with bubbly pink soda, and warm berry tea. Enjoy your sweet treats under our glittery chandelier and take photos to remember the perfect day.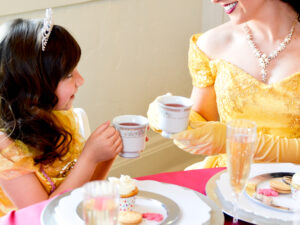 A Princess Add-on to your Tea Party adds the most magical touch to make your child's day truly special. Our Princesses will be at your Sweet Celebration for 30 minutes in the middle of your party and are sure to wow guests with their magical performance and storytelling. All Princess Add-Ons include an etiquette lesson, royal coronation ceremony and a gift from the Princess to your child.
Book a Sweet Tea Party today!