We love celebrating the special occasions for littles all over Colorado! We've had families and friends travel from as Fort Collins and beyond to come celebrate in our downtown Colorado Springs boutique birthday venue.
We take pride in being able to offer full-service birthday party packages for boys and girls ranging from age 2 – 16. Our party packages come with everything from the invites and entertainment to the setup and cleanup.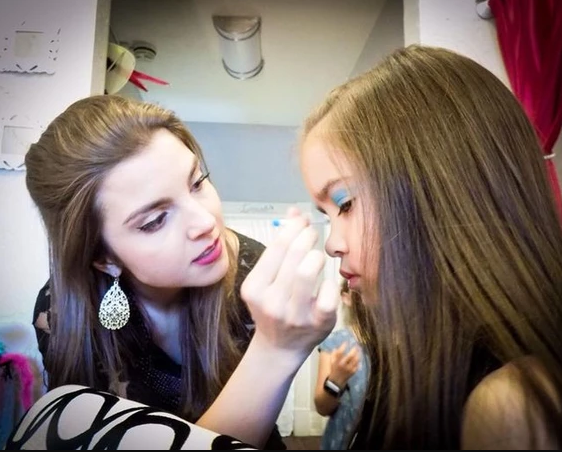 Enjoy VIP Treatments
Our party packages, while each unique, all offer VIP Treatments at one of our Style Stations. Guests and the Guest of Honor can enjoy silly emoji tattoos, hair chalk, hair glitter, mini-manis and glam or rockstar makeovers!
Dress Up Time
From Princess gowns to Superhero capes and everything in between, kids can enjoy dressing up together using fun accessories from our Celebrations Wardrobe before hitting the dance floor or striking a pose in front of our Glitter Wall in the Sweet Boutique.
Party Hostesses
Our fab party hostesses, donning cute polka dot aprons, are here to ensure that every aspect of your Sweet Celebration Party goes of without a hitch! From managing fun dance-worthy music to providing the makeovers and dance routines to lighting the candle and leading the song to celebrate your little one's special day.
Delicious Cookies & Bubbly Soda
Our sweetly decorated Sparkle Cafe has a beautiful round table set for your party complete with flutes of fizzy cherry soda, plates of sweet cookies and even delicate china settings for our Tea Party Bookings which includes berry flavored teas! While our sweet cookies tend to be just perfect for celebrations, guests are always welcome to add-on to this by bringing their own cupcakes or cake.
Whether your celebration includes a variety of personalities, we're here to ensure that all of your guests have the most magical time and the Sweetest Celebration of all! Don't forget to customize your celebration with one of our sweet Add-Ons. A fan fave is our Surprise Princess Appearance.