Celebrating a birthday during a quarantine isn't exactly the most ideal way to feel the magic on your special day. While you may be stuck at home now, you can certainly book a party with us for a later date to celebrate with all your little one's friends. In the meantime, while you're at home keeping yourself and others safe during this pandemic, there are ways to enjoy the day with some creative planning.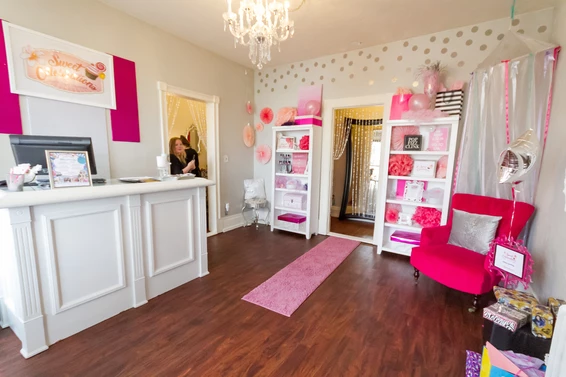 Decoration is Key
At Sweet Celebration Parties our entire downtown Colorado Springs boutique is adorned with beautiful accents and decor that is sure to mesmerize your little ones the moment they walk in. From our glittery chandeliers, sparkle cafe, plush pink runway and chic boutique to our luxurious style stations, we're all about the details.
Therefore, we highly recommend creating a magical space indoors for your little one to experience the moment they wake up. Blow up colorful balloons and disperse them throughout their room, make wall art out of construction paper like flowers, hearts, and tiaras! Have some window chalk lying around? Decorate your windows and the mirror in their bathroom with sweet birthday wishes.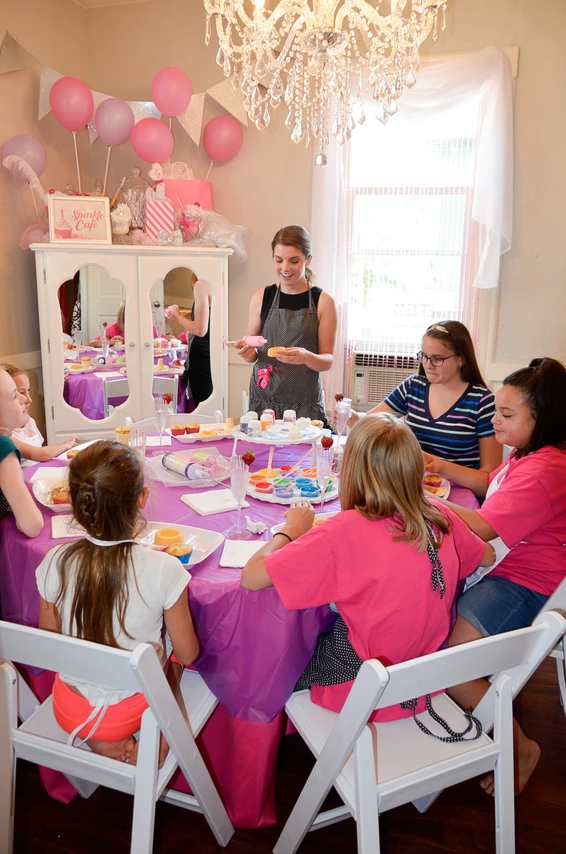 Create Birthday Activities While your little one may not be able to enjoy their birthday with all of their best friends, you can still create fun activities for the day that will make them feel oh-so-special! At Sweet Celebration Parties in Colorado Springs, we ensure that from start to finish, each of our parties is packed full of fun and activities. For our Sweet Shop Birthday Party, we offer a sweet day of cupcake decorating, cooking frosting and so many delicious samplings all while our little bakers get to wear aprons, mix their frosting colors, and add the toppings of their choice. Our Spa Party includes relaxing music, mini manis, sugar scrubs, foot soaks, candles, and comfy spa robes leaving all guests feeling like VIPs when they leave. Our Hip Hop Dance Party is non-stop fun with mini manis, hair chalk, temporary tattoo applications, dance party time, a runway show and all the wardrobe essentials in our dress-up room. Don't forget about our Tea Party! All of our Tea Party bookings include sweet treats, berry teas, fancy tea party hats for kids, feathered boas from our dress-up area, a toast to the guest of honor, a dance party and so much more.
While at home, you can leave riddles and clues around your house to keep them on their toes and place a fun surprise at the end of the clues that will keep them smiling all day. Don't forget to capture the moments and share with loved ones using your favorite video call app.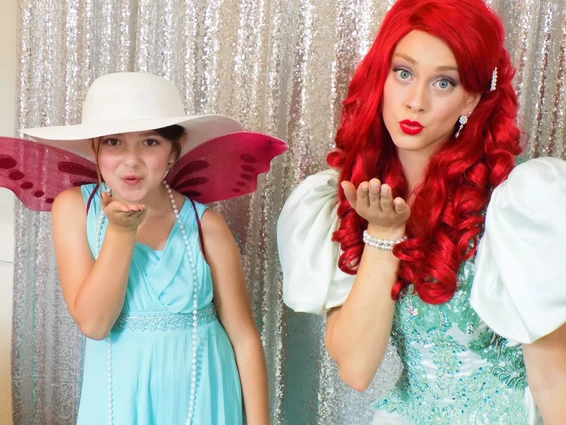 Add Something Special
Adding extra special moments is one of our specialities with our Surprise Princess Appearances! Our princess appearances can be added to any of our party packages, but must be booked a minimum of one week prior to your booked party date. All Princess Appearances come with a Royal Coronation for the Guest of Honor, Sing-along Time, Princess & Prince Etiquette Lessons, a Birthday Celebration in our Sparkle Cafe, Story Time and so many Photo Opportunities!