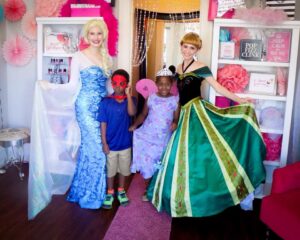 We offer birthday parties for boys and girls in Colorado Springs. Traditionally Princess parties are thrown for girls. At Sweet Celebration Parties, we're firm believers that everyone can enjoy a visit from a fairytale Princess! We also offer party themes designed for all partygoers.
Whether your own Prince wants to have a Princess at his party or your little girl is inviting boys to hers, the boys are guaranteed to have fun.
Here's a list of reasons why.
Party themes are fun for boys Several of our party themes are perfect for boys. Wow! Bam! Boom! Our Superhero Party is an hour and a half of super duper fun led by a Sweet Celebration Parties hostess. We transform each guest into a Superhero at our Style Stations. Little Superheroes can choose from our selections of undercover spy outfits & hats, masks & capes, and glam accessories. Once the Superheroes are done saving the world, they always rock out during our Dance Party complete with hit music, lights, and tons of photo ops!

Our Princesses make boys feel special Our professionally trained Princesses love to make the boys feel special. If you think about it; most Princesses have a male sidekick. They can tell jokes together, read stories, sing, and take a selfie too.

Sweet treats Sweet Celebration Parties' sweet treats are delicious. We provide cookies for every party. You are welcome to bring your birthday boy or girl's favorite cake or cupcakes to share too. We provide bubbly berry soda to top it off.
For more information check out our FAQ page or feel free to give us a call at 719.225.2110