Spring birthdays are best hosted indoors in Colorado. With the unpredictable weather patterns, hosting a celebration at an indoor kids birthday party venue like Sweet Celebration Parties is a sure way to avoid getting snowed or rained on. In fact, most indoor kids birthday venues in Colorado Springs book out for Spring with Spring Break celebrations and birthday goers are often left celebrating with other birthday groups – not so fun. The key is to book those Spring celebrations early.
At Sweet Celebration Parties for kids, we are always 100% a private booking only space and book 7-days a week. That means, we ensure that your little one's birthday party is our only priority – which makes your little one and their guests feel like the VIP they are. We also provide dedicated birthday party hostesses that manage and entertain throughout the duration of your booked party theme and have party themes like our Tea or Glam Party where you can add on a surprise Princess Appearance. Our Princesses are all professionally trained performers with acting and singing skills that will make your little one feel like they're at the happiest place on Earth. We've recently rounded up our most popular picks for April birthday party ideas – drum roll… Here they are: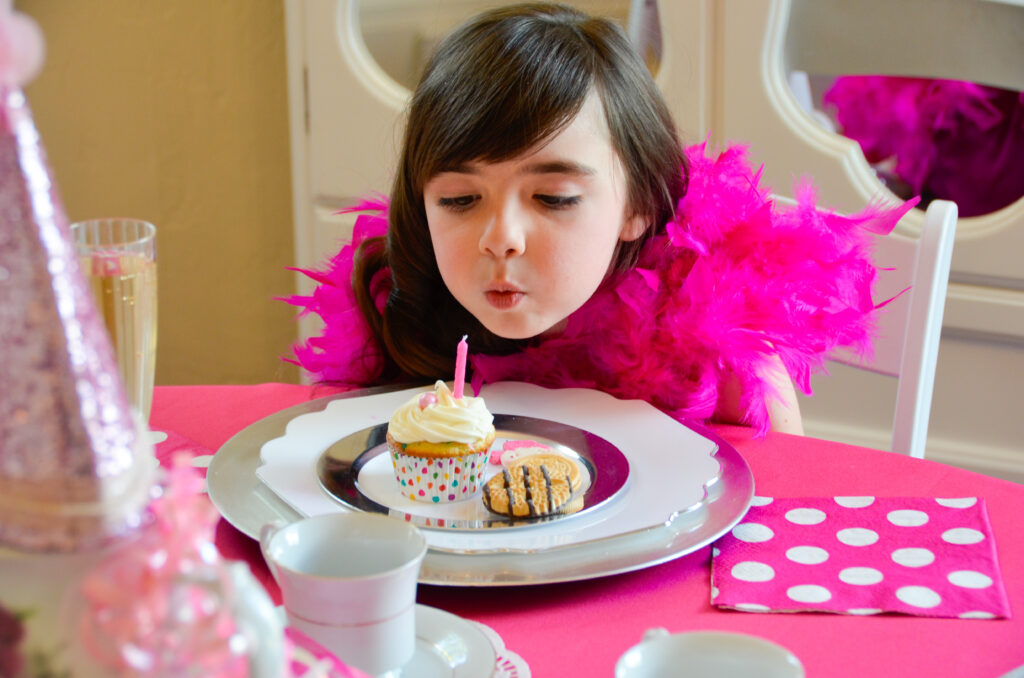 Tea Party – Great Party for Toddlers & Tweens  (This party can add a Princess Appearance)
Oh la la, she fancy! Nothing quite feels as royal and proper as a Tea Party with all of your friends and favorite dolls or stuffies. Our ornately decorated table settings with a real china tea set served with warm sweet berry flavored tea pairs perfectly with our decadent cookie samplings and champagne flutes of bubbly soda. We will greet your child and their guests with fab makeovers and mini-manicures before escorting them to our Celebrations Wardrobe where they'll select their favorite Tea Party accessories (the floral hats are a hit). Next up, we'll celebrate in our Sparkle Cafe underneath our glittering chandelier before having some fun in our Sweet Boutique with fashion shows, poses, and a dance party. After letting loose, your child can enjoy opening their presents on our Birthday Throne with friends or taking selfies in front of our Glitter Wall.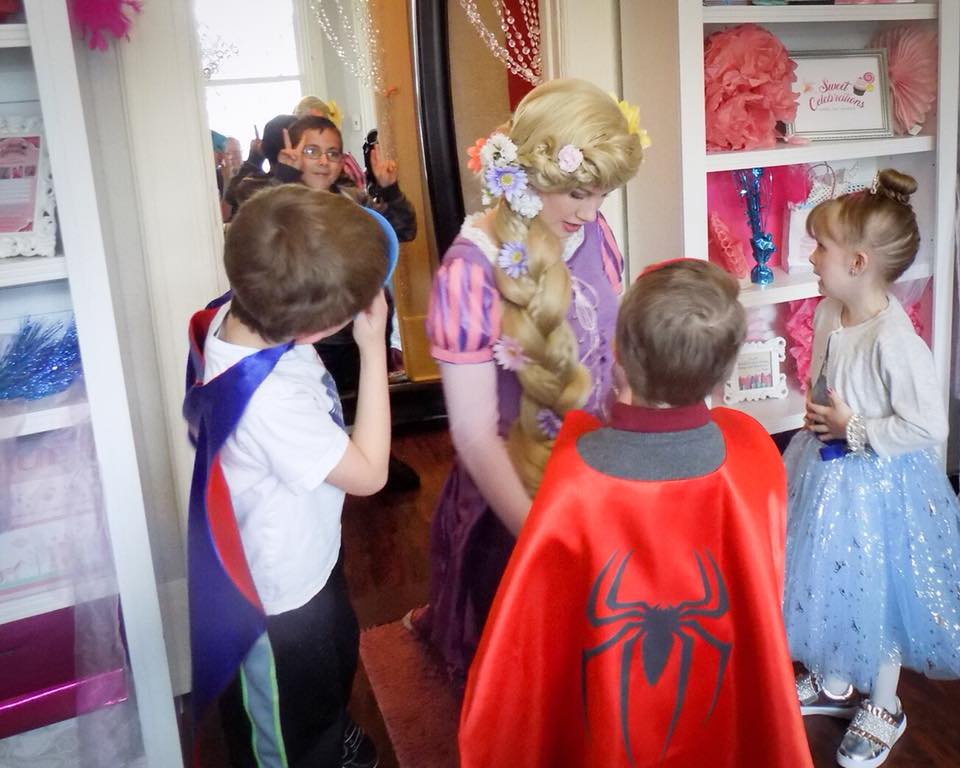 Superhero Party – Great Party for Boys and Girls
Cape? Check! Mask? Double Check! Ready to save the world one birthday at a time? Let's do this!! Our Superhero Party is a MARVELous way to get dressed up with friends from accessories in our Celebrations Wardrobe. All little heroes will enjoy makeovers at one of our Style Stations as they get on their best Superhero look. We've got radical neon hair chalk that our party hostesses will apply, and can add glitter hair spray to really make them stand out. We also will offer mini-manicures, stickers, or temporary tattoos. Then, your little Superhero can select from our accessories that give them the most superpowers before partying in our Sparkle Cafe with friends. We'll top off the fun with a dance party complete with hit music, dance lights and lots of laughs.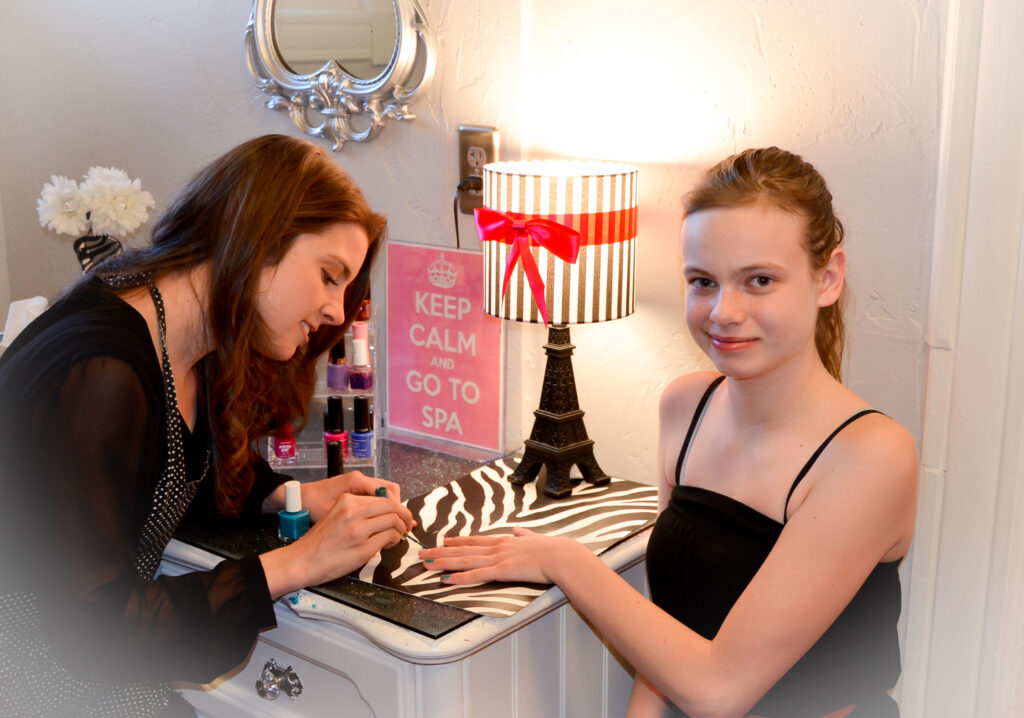 Spa Party – Great Party for Tweens
Say AHHH to Spa! Relaxation is the way to go after being back in class following Spring Break. Nothing quite resets the soul like a little pampering. Our Spa Party includes a candlelit boutique, hand sugar scrubs to try, warm foot soaks with massage pebbles, warm aromatic towelettes, and comfy spa robes. After a relaxing soak, our party hostesses will invite your child back to our Style Stations where they'll enjoy mini-manicures, temporary tattoos or stickers, and hair chalk or hair glitter. We'll then enjoy bubbly champagne flutes of soda, cookies and toasting the birthday child in our Sparkle Cafe with friends. Our staff provide the candle and lead the birthday song. After celebrating, we'll have some fun in our Sweet Boutique with a dance party and birthday throne presents/photo opps.
Whatever party theme you opt for, you're sure to find something that meets your child's unique style. Make sure to get on our calendar early for the best selection of party days and times, if you'd like to give your child a Sweet Celebration this year.