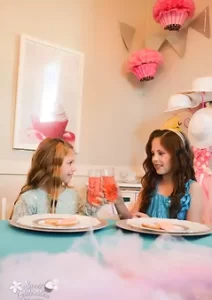 While we may be located in a historic building in downtown Colorado Springs, we're proud to offer accessible entry for our birthday party guests and their friends! A Sweet Celebration Party for kids means that we welcome all children and their friends to our boutique. Our party hostesses are thrilled to host your child and their friends by providing the most magical celebration for their needs.
Entry Ramp & Accessible Venue
We have an accessible entry and ramp for guests who may be using a wheelchair or other device to assist them with mobility. We also have a singular level venue, including our restrooms, that offer a safe and inviting space for all to enjoy! Our Sparkle Cafe table is also designed to be fabulous for everyone – we even have pretty fairy wings that can be affixed to the chairs we provide, or your child's own!
Controlled Environmental Stimuli 
We understand the importance of feeling your best on your birthday – and kids deserve to feel OH-SO FAB for their big day. Therefore, we're more than happy to setup a pre-party meeting with you to discuss any requests you may have to adjust lighting, music, or other environmental stimuli to ensure your child has the most incredible time with us. Our staff welcome your feedback and will make sure to accommodate your wishes!
One of the many benefits of our downtown boutique is that we host celebrations by private booking only, which means your celebration is just for your child, their guests, and you to enjoy! Our staff can be as interactive as your child is comfortable with, just let us know if you have any specific notes to help us create a celebration they'll cherish forever.
Some of the activities we provide include:
Mini-manicures
Makeovers with hair glitter, hair chalk or makeup
We also offer stickers or cute tattoos
Access to our Dress-Up Wardrobe (superhero capes, princess gowns, fairy wings, and more!)
Coloring books and music
Dance party space with a glitter wall for fashion shows
Princesses can be added on to our Glam Party, Tea Party or as their own Private 1-on-1 Princess Experience
Cookies & Refreshments
All of our parties come with bubbly soda and cookies, but we know that some groups have specific dietary needs. You are always welcome to bring in your own snacks for your child and their guests to enjoy. While some venues charge a fee for outside food, we do not. We want all children to be able to enjoy their party in our Sparkle Cafe.
Parents Lounge
We also offer an on-site Parents Lounge where you can sit back nearby and relax while your child and their friends are enjoying some party time. You're welcome to bring in your own food/drinks to enjoy as well.