Toddlers, tweens and everything in between – kids love our Sweet Celebration Parties Glam Party theme. Options for feeling glamorous and fabulous in Colorado Springs just got better for kids birthday parties and here's our top 3 reasons why.
Colorado Springs Private Kids Venue
We don't just plan and host your party, we make sure you and your child feel like the ultimate stars of the show with a 100% private venue all the time. That means you're not sharing a space with dozens of other kids you don't know. It's strictly VIP from the moment you and your guests arrive to the time you leave. That also means that our staff are always dedicated just to your celebration and offer a completely tailored experience that makes your little one truly shine on their special day.
Our team doesn't just sit back and let your celebration run itself. Your party is curated and managed by our celebration gurus so that every second of your child's birthday is dripping with that fabulous feeling of "it's my party"! Creating an exclusive experience comes with decades of knowledge and practice and that really is what sets us apart – seriously, our owner used to plan and host visits with real life princesses and royals. When it comes to making someone feel fabulous, we've got that handled.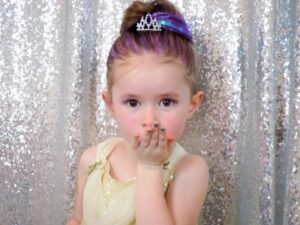 Accessories, Music and Glam Makeovers
Okay, so obvi we love all of our fab party themes. However, our Glam Party truly is one of the most popular choices around town. This celebration is packed full of fun for your little one and their friends. Step into a world of glitter and shimmer during this 1.5 hr celebration (perfect for kids ages 2-16). Our hostesses greet your child and their entourage like they've just stepped off of a private jet.
Soon they're brought to one of our Style Stations where they will enjoy choosing their favorite nail polish colors and glitter application, enjoy having a selection of brightly colored hair chalk, glitter hairspray, cute temporary tattoos or emoji stickers, and select from an array of beautiful accessories and outfits they can try on before striking a pose in front of our glitter wall. We've got everything from princess gowns, sequined sashes, rad neon sunglasses, inflatable microphones for the superstars of the group and even cool superhero accents.
Next up, it's time to hit the dance floor and bust some moves to popular age-appropriate music, dance lights and good times with friends! We also have a royal birthday throne where your child and friends can sit together for photos and open presents together before departing. Again, every second of this celebration is packed full of fun for everyone!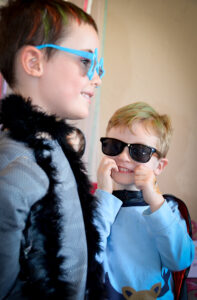 A Party for Boys and Girls
This party theme is a must for boys and girls who love playing dress-up! Whether they're destined to be a superhero in our Sweet Boutique or a magical fairytale Princess – our Celebrations Wardrobe is bursting with fun accessories to try on. We also love seeing inner superstars light up in front of our glitter wall as they jump around and dance with friends to their favorite music. We've hosted hundreds of Glam Parties for groups of girls and boys and they're always a blast for everyone – including mom and dad because we do all the clean-up.
You can check out more party themes here or you're welcome to explore our Glam Party available dates on our calendar here. Check out our frequently asked kids birthday party questions here and when you're ready – we'll be your hostess with the mostess in our downtown chic boutique!