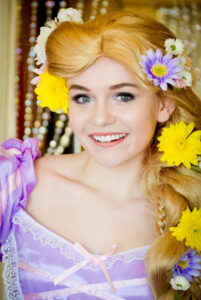 It's that time of year – to look ahead, plan and make resolutions. Our Princesses wanted to share what they are focused on in the new year. Here's a look at Sweet Celebration Parties Princesses' goals for 2022.
Toys are out. Experiences are in.
Our Princesses think less toys are the way to go for upcoming celebrations. Instead, they'd prefer quality time experiencing something fun together. Take their advice and choose to have a One-on-One Princess Experience with an Arabian Princess, Beauty Princess, Cinderella Princess, Ice Princess, Mermaid Princess, Rapunzel Princess or the Snow Queen.The magical hour will include dress-up time from the Celebrations Wardrobe, a makeover done by the Princess, stickers or tattoos, mini-manis, and hair glitter or colorful hair chalk.
Say Cheese
Our Princesses want to take more pics in 2022! Of course, they love to be featured on Instagram for their family and friends to see. We have several great spots for photos at our Sweet Celebration Parties boutique. The glitter wall adds the perfect pop of shine behind your best selfie.
Keep it simple
Our princesses believe less stress is best! Sweet Celebration Parties makes it simple to host a memorable celebration while we do all of the work! All you have to choose a party theme, pick your desired date and time from our online calendar, book it with a deposit and pay the remainder on the day of the party! Don't forget to customize your child's birthday party by adding on a surprise Princess Appearance.
Stay Well
At Sweet Celebration Parties, our staff takes extra care in keeping our kids birthday party venue super clean. We sanitize our spaces before and after each celebration. We've got plenty of hand sanitizer on hand too.
For more information about Sweet Celebration Parties give us a call today at 719.225.2110.