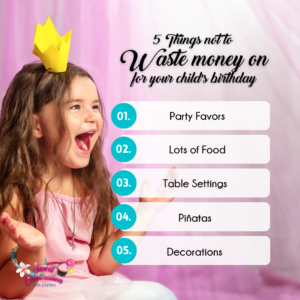 Your child's birthday should be a special event that creates lasting memories for you, your child, and their guests; not a stressful time that you just want to get over with. There are so many extras that have become expected of the host to supply for kids parties that simply aren't worth your time or money. 
When it comes to your child's birthday, what truly matters is that they are having the best time. We've gathered 5 things not to waste money on for your child's next birthday so you can save a little extra cash and your child's celebration stays the priority. 
#1 Party Favors
We're going to be totally honest, most of the time, party favors end up in the trash. The bags of little trinkets, stickers, and candy rarely make it all the way home before something breaks, gets lost, or eaten. If they do make it home, the child's parent is likely to toss much of what is in the party favor bag into the garbage. The overall experience of the celebration is the best party favor for little guests and parents alike. Create a magical memory for them to take home instead and explore party themes like our Bakery Party, Spa Party or Hip Hop Dance Party.
#2 Lots of Food
Too much food means way too many leftovers you'll have to take home and will probably end up getting thrown away. Most kids are going to be too busy having fun to enjoy a large array of snacks, pizza, ice cream, or even cake. Small specialty treats like cookies or cupcakes are the perfect way to celebrate and make sure everything gets eaten. Also, avoid too many drink options – most kids go for appealing drinks like brightly colored punch or soda. At Sweet Celebration Parties, our bubbly pink soda is served in fancy champagne flutes – that's truly what makes them so special and widely enjoyed.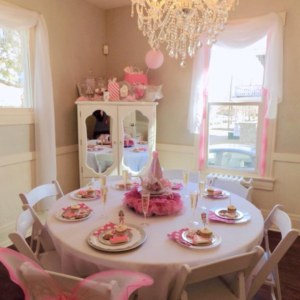 #3 Table Settings
Stop buying paper plates, plastic cups, and plasticware, and cheap napkins that everyone will use way too many of! Disposables are out, especially since so many of them go to waste. If you are going to use table settings, opt for linen tablecloths and reusable plates and cups. It's more sustainable and a level-up for your child's celebration.
#4 Piñatas
Piñatas have ranged in popularity over the years, but they still seem to be a birthday staple for many. Piñatas can become an unsafe party activity fairly quickly, and if you opt for a safer pull-string piñata it may not even work properly. Once it finally breaks, it's a mad dash to the candy and oftentimes, children who don't get as much as others get upset. Simply, they can become a mess, a danger, and don't really offer much of an experience for all the kids if only a handful get to actually swing (camera pan to the kids still in line). Opt for experiences that all kids can enjoy equally (and safely). 
#5 Decorations
Decorations are a hassle to put up and take down. Unless your party has an incredibly in-depth theme, they probably won't even get noticed or used again. Make the party space an interactive environment rather than simply putting up streamers or balloons. 
Sweet Celebration Parties' pre-decorated party venue is ready to celebrate your little one's special day. With selfie walls, style stations, and our signature glittering chandelier; Sweet Celebration Parties is a birthday paradise for little ones and parents alike. The table in our Sweet Boutique is already set for celebrating, who needs plastic cups when you can step up the game with sparkling champagne flutes, fancy charger plates, and exciting centerpieces?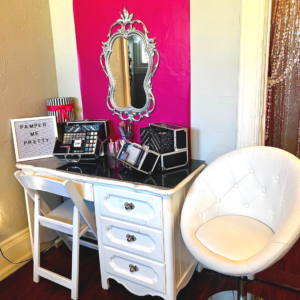 Children will enjoy sweet treats and bubbly soda and be pampered with mini makeovers and mini manicures while celebrating all together in our private downtown Colorado Springs venue. There's nothing quite like a Sweet Celebration Party, whether your child prefers princesses or superheroes, cupcakes or tea parties, we have the perfect party theme to make any child's birthday the best day ever. 
To get the best selection of available days/times, we recommend booking your date early! Simply book your date with a deposit and get ready for a magical day of celebrating.